A Conversation With Tony Delk About His Life, Legendary Career, Basketball Academy, IMAC Regeneration Center And His Private Wine Label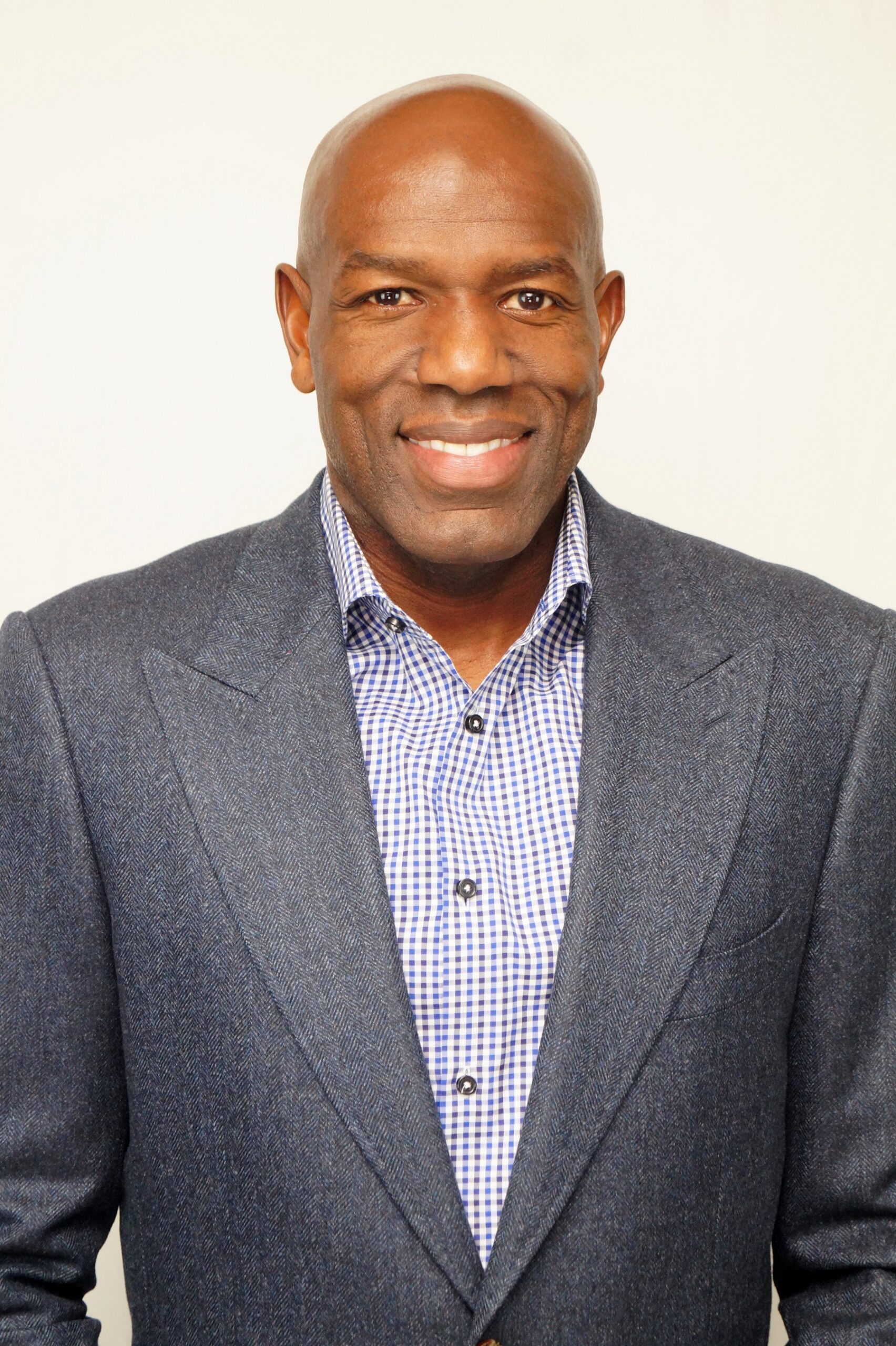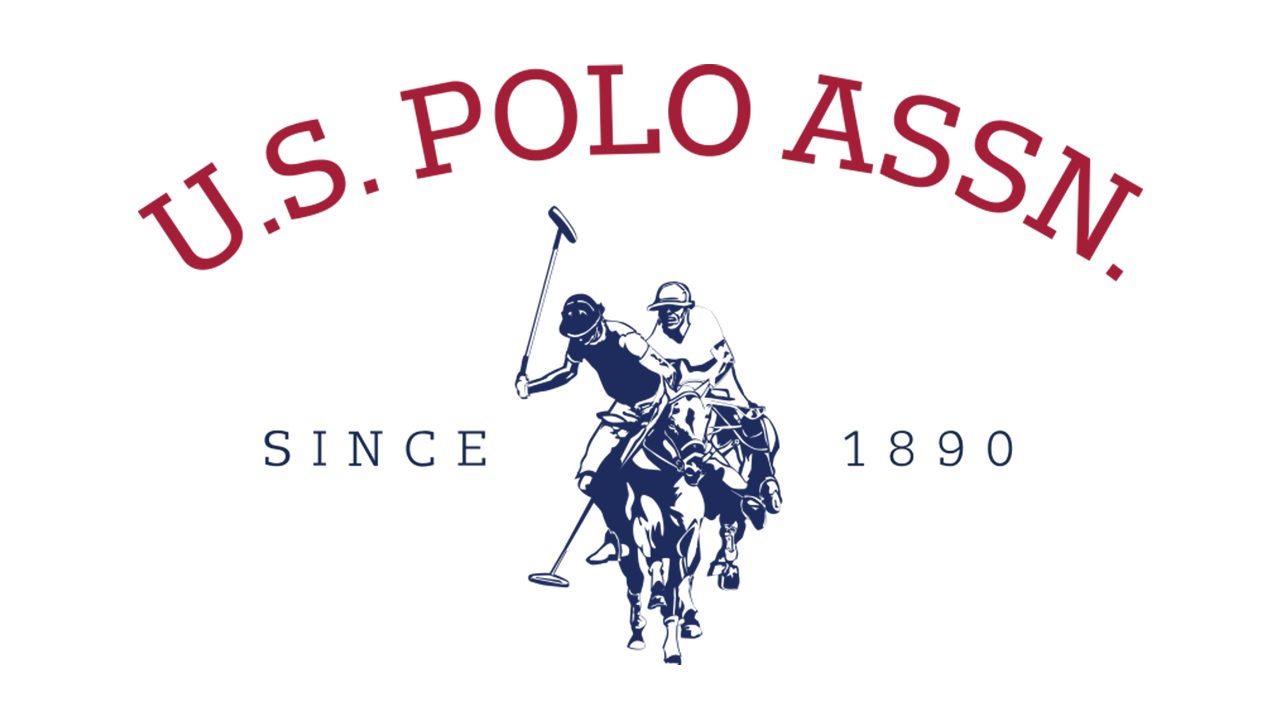 By David Jordan Jr
I recently had the opportunity to talk to Tony Delk about his life, legendary basketball career and all of his post playing career endeavors and entrepreneurial pursuits that are both in the game of basketball and life. Delk, originally from Brownsville, Tennessee had a legendary basketball career as a prep player at Haywood High School en route to setting many scoring records while winning many different accolades including being Mr. Basketball in the state of Tennessee, a Parade All American and a McDonald's All American. His college career at the University of Kentucky included two trips to the NCAA Final Four, culminating with winning the National Championship in 1996 while also being named the tournament's Most Outstanding Player. Drafted in the legendary class of 1996, Delk would began a career that would carry him all over the world. Speaking about his career, Delk also talked about his Tony Delk Basketball Academy, his IMAC Regeneration Center and his private label wine with ESHE.
David Jordan Jr: Your introduction to this game of basketball. Your brothers played and we're all great players. Did you instantly take a liking to the game or did your interest develop gradually?
Tony Delk: It was something that I loved from the first time I shot paper into the trash can on top of the dresser. I knew it was going to be something that was going to be in my life for many, many years. And I just enjoyed and loved doing it every day that I woke up in the morning, whether I was shooting on a milk crate, bicycle rims, wooden backboards, it really didn't matter. It was just something that I enjoyed participating in and it definitely came down to just the love for basketball. It was the one thing that I could do every day, it wasn't so much about somebody forcing me to do it or making me do it. It was embedded in me.
David Jordan Jr: Being from Brownsville,Tennessee , sometimes with kids, especially today and it was definitely different back then with how people perceived a player from a small town, were there any challenges that you encountered in being from a small town and trying to achieve what you wanted to achieve or did you just say I'm going to work hard, I'm going to make it. What was that process like for you?
Tony Delk: I think that all small-town guys, it's a little bit different when you know the city guys are going to get all of the publicity and that will be all of the college's first look. I never got caught up in that. I think it was something that I enjoyed doing and I didn't think about the NBA or college. I just loved playing basketball and as I progressed through my middle school and high school I started getting really good at it. I think just having older brothers that were college players and playing against them and competing against them, I think that when I started beating them I felt that I could play against anyone. When you take a fifteen-year-old kid and start playing against 30-year-old brothers and start beating those guys, there is no one that's going to be as good as those guys and have the experience of those guys have at this age and I knew once the opportunity presented itself to compete against the guys from the bigger cities I was going to be fine. I remember spending the summers in Atlanta with my brother Rickie and I remember he would take me to the park and just drop me off. I was this small-town kid playing at the park with these city guys and when you first get to the park, no one really knows you, so you're the last guy picked. You have to earn your right to get on the court. By the time I left Atlanta at the end of the summer they were like "Little Delk, you're going to be fine, you're going to be okay." I got the approval. That was the time that I started beating my brother Leslie, that I had never beaten before, convincingly and it was easy to beat him once I performed against my brother Rickie and those guys in the park. It made me tougher. The one thing about playing against my brothers, they never let me beat them. They didn't care about my feelings. It became personal after I got a chance to beat them. I was like now I'm not going to let you guys beat me anymore and I think once that happened I think that they had figured they had passed the torch. They also got out of the way of coaching me. I think my mom was instrumental in letting me be coached by my coach and they had done their part. It's great having mentors and brothers that wanted to see me succeed.
David Jordan Jr: You developed tremendously in a relatively short amount of time during your high school career, three years of varsity. What was the development process for you?
Tony Delk: Like you said it was a short amount of time. It was just from one summer to the next. When I was a sophomore I was a starter and I was one of the first guys to start as a Sophomore. Usually, it was juniors and seniors. I was one of those kids that he started. Even as he brought me up from my freshman team after we won our district championship. I remember just sitting on the bench as a ninth-grader, it was cool to be a ninth-grader on the varsity but I wasn't ready to play. I remember him coming down and looking at me and asking me to go in the game and I was shaking my head like "Nah I'm cool, I'll wait until next year." I was just happy to be on the bench with my jersey on and people saying "oh he's a freshman on varsity." When the next year came around I became a starter with my four other seniors and actually led that team in scoring averaging 20 points per game as a sophomore and then going from 20 to 37 points per game as a junior, that was a huge jump. To be honest with you I remember I only had one 40 point game, it was a triple-double, I had 46, 10 and 10 and that was the only 40 point game I had as a sophomore. Coming back as a junior something clicked. Scoring became easier. Also having the green light allowed me to play with such freedom and as I talked about earlier, working on the different parts of my game, becoming a really good mid-range shooter, stretching my range out to about 25 to 27 feet, so it gave me a lot of driving lanes, but also space to drive.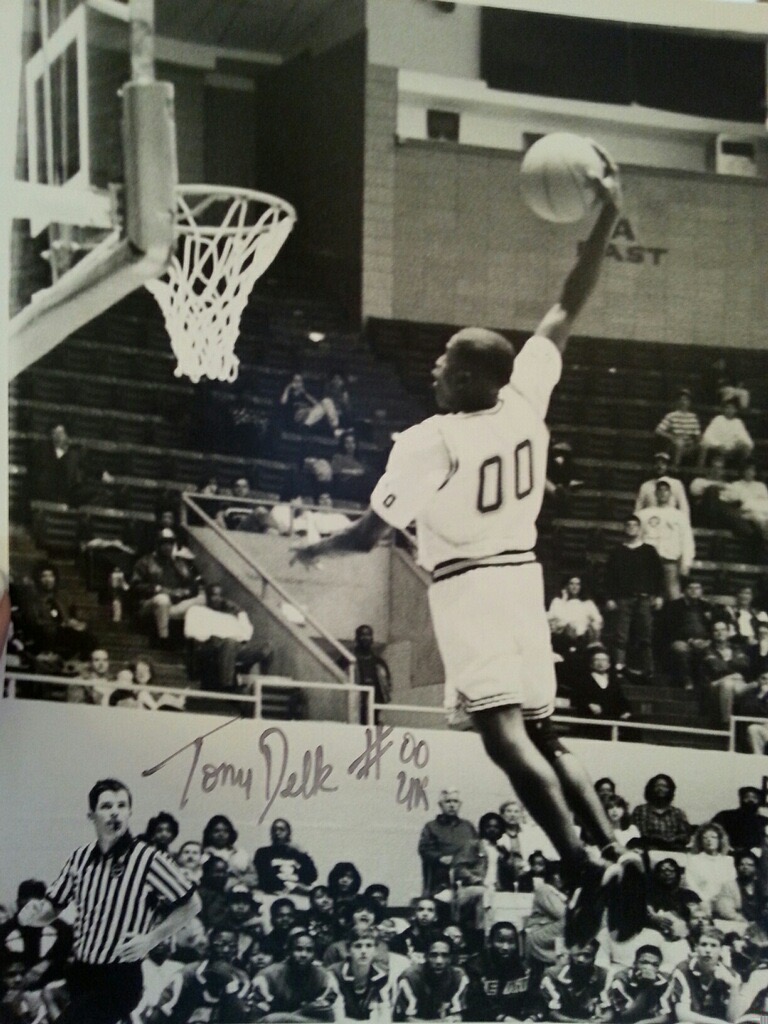 Just having that green light to be able to take a shot from wherever and not have your coach say anything. It was something that I cherish. I think Coach Sullivan might be my favorite coach. He definitely allowed me to take shots but it was also shots that I was able to make because I practiced on those shots.
As I tell my kids in my program, I don't mind you taking shots as long as I see you practicing on those shots. Coach saw me taking those shots in practice, he also saw me stay afterwards and work on those same shots, as soon as I crossed half court I would take those shots but he saw me practice those shots. The trust was built there. I tell kids when you practice, your confidence and trust is built at practice. When I see you do those things at practice, I'm going to allow you to do those things in the game. That's how my coach looked at my game, I"m going to allow you to have that freedom because I've seen you do that.
David Jordan Jr: Coming out of high school you were a Parade All American, McDonald's All American, Mr. Basketball, everything in Tennessee and you went to Kentucky at a time when Kentucky was arguably the number one basketball program in America, the SEC was the best conference in the country. How did Coach Pitino prepare you all for battle every night and bring the best out of you?
Tony Delk: Every year he had some dogs. Even when I got there there were some dogs at my position. Seniors that were stronger than me, better players than me because of their experience and them being older and having understanding of his system and what he expected from them. I remember walking on campus with all of the accolades, the first individual instruction, Rodrick Rhodes and myself, Rod was the #2, #3 player in the country at the time so we both were in at the same time. I remember fifteen minutes in I was exhausted. I had never been that tired before in my life. It was the hardest individual training I had had; I had practiced with my brothers in the backyard in 95 to 100-degree weather, three hours practices in high school but that was the hardest most intense practice I had ever had and it was only fifteen minutes in. I remember we had about ten minutes to go in the workout and I'll never forget Rodrick and I were playing one on one and we were both exhausted, leaning on each other, fouling each other and I'll never forget coach kicked us out the gym. He said "Y'all effin' freshmen get out, y'all are pampered, you don't want to work hard" but I had given him my best thirty-five, forty minutes and then we had a three hour practice later that evening. I just never forget how intense it was; you were fighting for minutes. That's the one thing I always remember.  Once I became a starter my sophomore year and I reflect on my freshman season where I was just trying to fight to get some minutes and it was so bad my freshman year I had called my parents and told my mom and dad I was going to transfer because I'm not really getting the chance to shine and show what I can do here.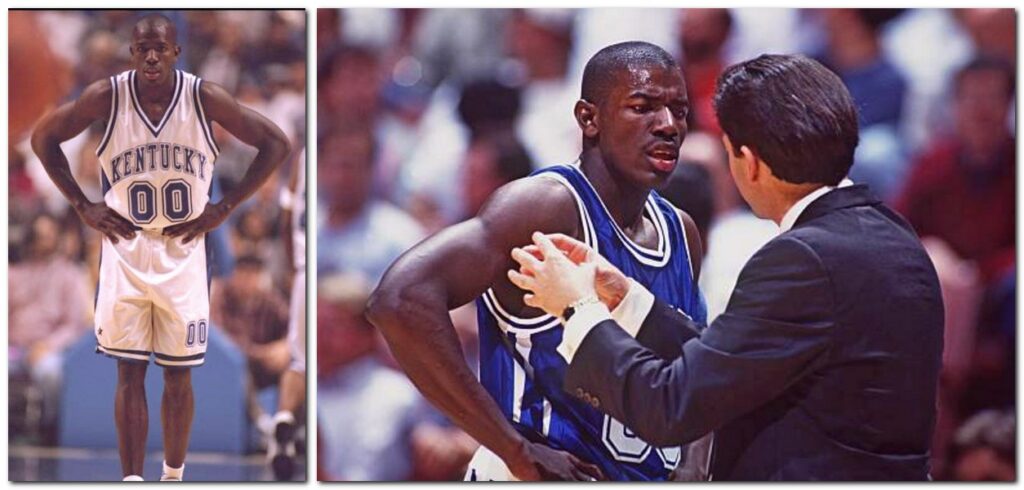 I'll never forget my mom telling me "you're not coming back here, you have to find another school, but you chose this school and you have to honor your commitment." At the time I was like eighteen or nineteen I did not want to hear that, I was thinking she was going to allow me to come back home and she was like NO YOU'RE NOT COMING BACK HERE." I had to grow up as a freshman. I stayed on campus after our Final Four Season, we lost to Michigan. I might have came home for like two days and then I went back and was in the lab working on my game. I wanted to become a starter once again. I didn't enjoy sitting on the bench. That was the one thing that spearheaded me working even hard. Coach and I had a good talk, he said he needed me to improve and get better.
David Jordan Jr: As a freshman you made it to the Final Four and then again as a senior you made it to the Final Four and won a championship as THE MAN. Could you tell us about the experience as a freshman and then your experience as a senior. Your freshman year you all were predicted to win a championship, you made it to the final four, came within one game of a national championship, how was that experience, and was it something you expected?
Tony Delk: You think that when you come in with the #1 recruiting class like we did in 1992, you expect to do well. You have the best talent in the country. At that time guys were still staying, some of your better players were juniors and seniors. It's not like it is now where you can have freshmen that can get you to the Final Four and lead you to a National Championship game. As good as that Michigan team was with the Fab 5, they didn't win a championship, it's a lot harder than people make it out to be although you might have the best talent. My Freshman year our best player was Jamal Mashburn and he really carried us through the NCAA Tournament and when he fouled out with a few minutes to go in that Michigan game, I still thought we had a chance but we also lost one of our good players that had got injured, Dale Brown.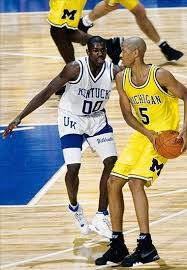 I wasn't ready to be a scorer that I once was in high school because I hadn't played throughout the year; if my development and playing time was there I know I could have helped us at least score some points because I only scored two points and we lost 83-80 in overtime; I could have helped. If I could have been the player I was a year later, I know we would have had a chance to win that game because I went to being the leading score my sophomore, junior and senior year. My senior year I thought our team was really good in '95, even though we won a championship in 1996. Walter McCarty got his second foul early against North Carolina, it was a technical foul and that gave him two fouls. That's why sometimes you got to let a player play with two fouls and see if you can trust them in bigger games. When Walter went out we were leading North Carolina and we were trailing the whole time. For me I was making the decision on should I stay or should I go. I felt at that time because I was playing against Pros in the summertime, I felt like I was ready to leave in '95. I was so close to graduating and getting my degree and I remember telling my Mom and she was like you promised me you were going to get your degree and I was like I was ready to go to the NBA (Laughter). It ended up being the best decision I made. Your parents see things that you don't see and for me it was more about honoring what I told her I would do and I was also determined to lead us back to the Final Four and then we had a really good team although Rodderick Rhodes left and transferred to USC. Derek Anderson was eligible to play, Ron Mercer was coming in, Wayne Turner, we had extra firepower.(Talking about 1995 team) Losing to UCLA by one point in the first-ever John Wooden Classic and beating Arkansas in the SEC Championship game we saw those two teams in the Final Four we knew that if we would have gotten back there and played UCLA we would have been prepared because we felt like we were cheated when we went out there playing in there first ever John Wooden Classic. We know we would have beat them.
David Jordan Jr: How intense was it playing against the Nolan Richardson coached teams. The 40 Minutes of Hell. You all got up and down on both sides of the court the same way. Both of you all's teams played that way. You all played that way from the tip to the final horn.
Tony Delk: It was interesting to play against them. What made it fun for me and a rivalry game for me was that my mom wanted me to go to Arkansas. Nolan Richardson and Mike Anderson recruited me just as hard as Kentucky. I became great friends with Big Nasty because he played with the Arkansas Wings AAU Team; we were very familiar with one another. On my visit there, a really good friend of mine Clint McDaniel, Al Dillard, Scotty Thurman, we still stay in contact, but we became good friends. Going and visiting and seeing Kentucky and seeing the tradition, the Midnight Madness, and seeing how the fans loved basketball, it was just different than the fan base at Arkansas and not to say Arkansas didn't have solid fans because they were the biggest show on campus. When Billy Dunn was recruiting me and when I left Kentucky after that Midnight Madness, I couldn't sleep I was so excited. I was so excited about being apart of that tradition and I knew I had to make the right decision for my career and although I didn't have a great freshman season, I wasn't disappointed because I knew I had to go back to the drawing board and become a much better player. My first three years, they won all three regular-season games and we won the SEC Championship games and of course my senior season. We split my freshman to my junior season and then, of course, my senior season we were so much better than them. It was a rivalry because both teams had depth.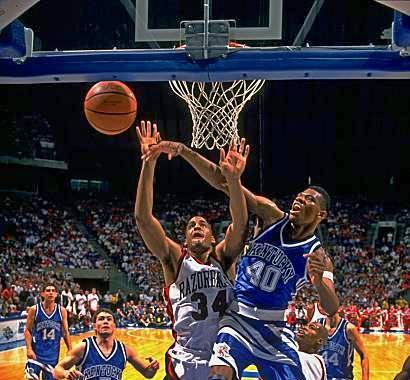 We had the bodies, they had the bodies, so it was definitely one of those high intensity things, back and forth like a ping pong match. We definitely were the two best-conditioned teams in the country.
David Jordan Jr: After your senior season you were drafted in arguably the greatest draft class ever, the NBA Draft Class Of 1996.
Tony Delk: The class was amazing. It was a draft that was loaded with underclassmen. One of my brothers Lorenzen Wright, R.I.P. to him, it was so many underclassmen. A.I., Ray Allen, Marbury was a freshman, Antoine was a sophomore, high school guys Kobe and Jermaine O'Neal, so much talent. Across the board we all had different games as good as we were, we all had different games, everyone was different in their own way. I think back and I'm appreciative to be apart of one of the best draft classes there ever was.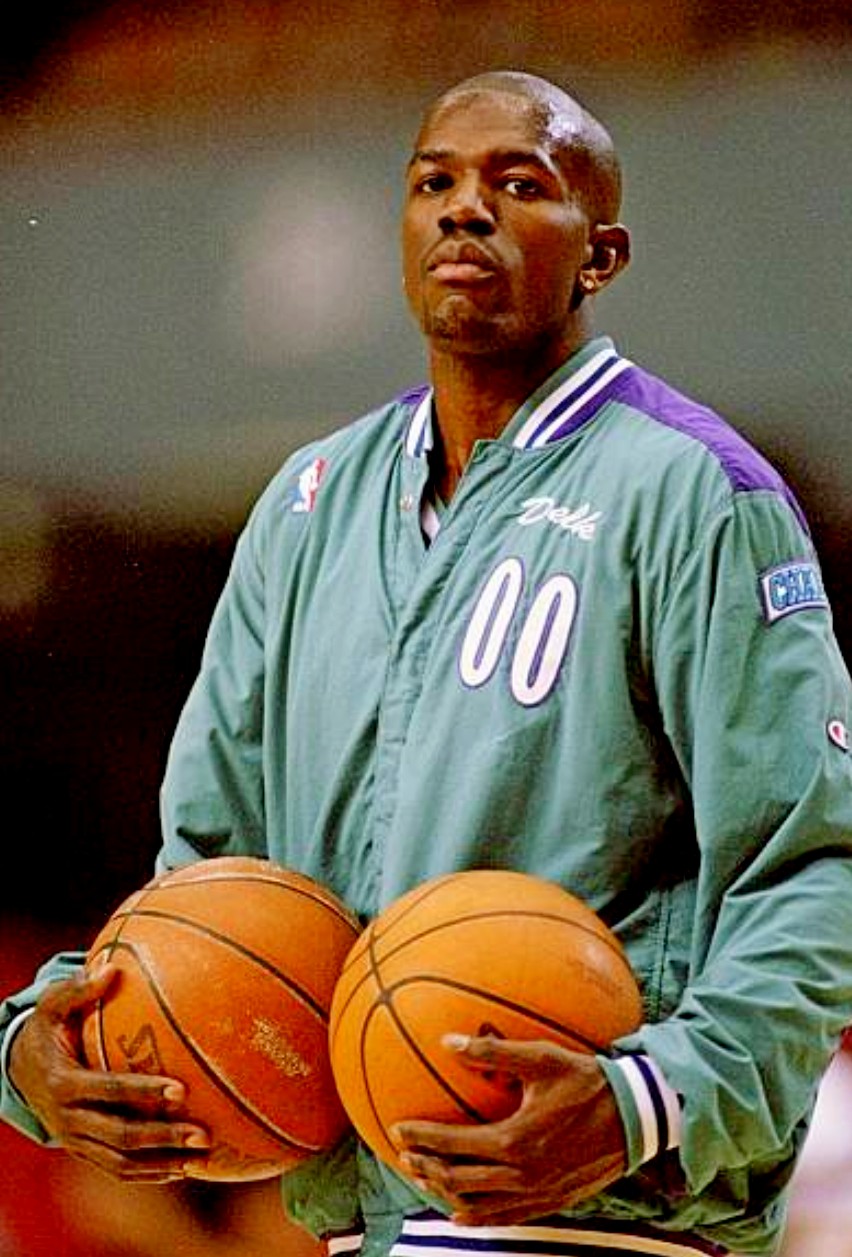 I'm also like if about ten of these guys had stayed in college one more year I would have been probably a top-five draft pick because of how I played and how I finished my senior season. I went to a veteran team with Anthony Mason, Matt Geiger, Glen Rice, Vlade Divac, Mugsy Bogues, Dell Curry so I was going to have to do what I did at Kentucky. I was going to have to beat some guys out that had more experience at the level of play. The NBA is really three seasons in one.
David Jordan Jr: What was your biggest adjustment entering the league at that time because the game was so different?
Tony Delk: Getting better at playing the point guard position. I didn't play it that much in college; I could still play the position but not to the point of being a facilitator and getting everybody involved, keeping the team organized, and being a leader. That wasn't something I was great at because starting out I was always a scorer. Making an adjustment to where the game was at that time. You had power forwards and centers that clogged the lane up. Even if you were quick and a scoring guard you had to throw the ball in and play inside out.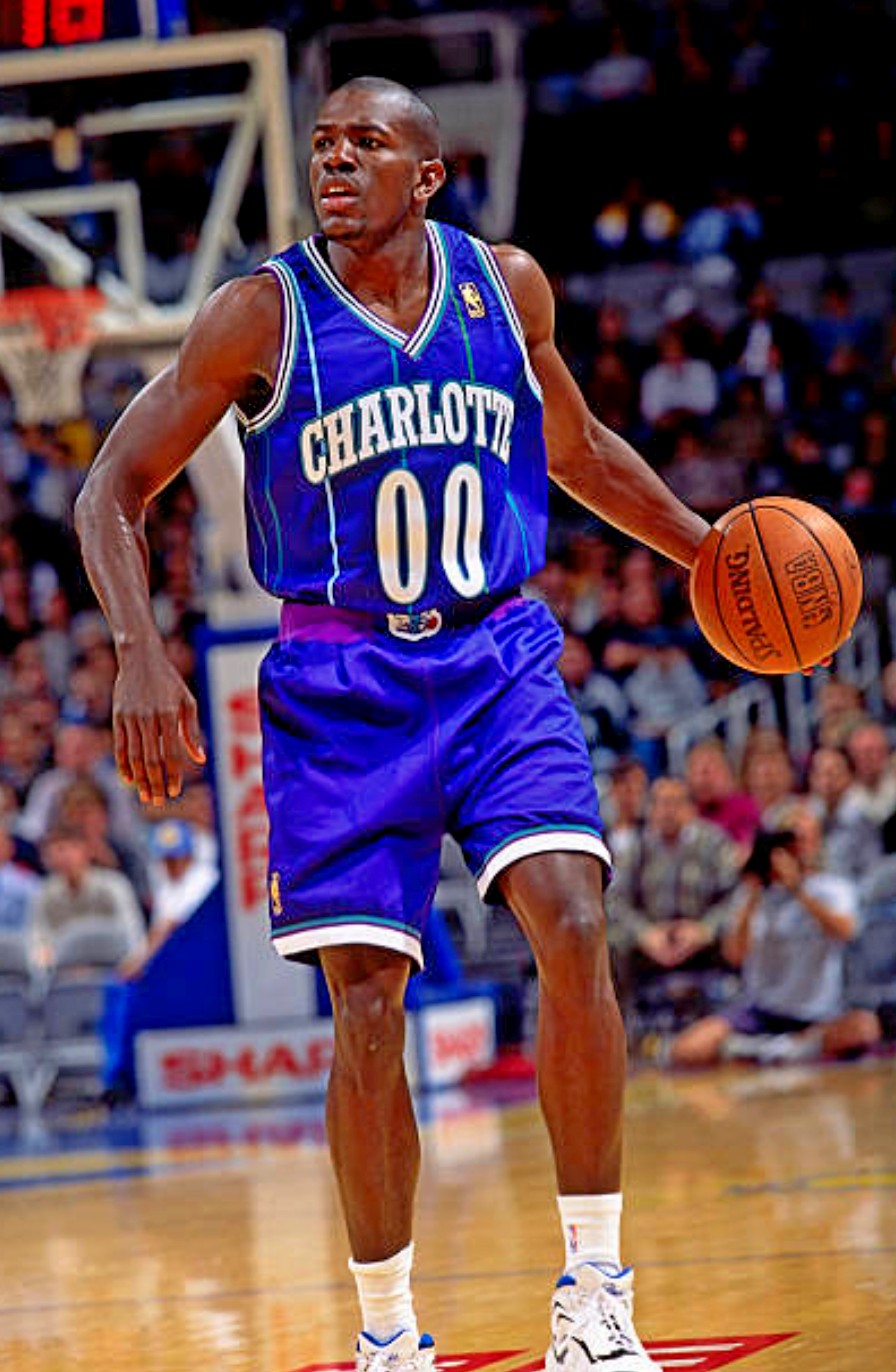 What helped me at that time was having long arms, a 6'9-6'10 wingspan and an over 40-inch vertical really helped me. That allowed me to defend against stronger, taller players, plus I was solid because I wasn't a pushover and I also knew how to post-op. I worked with my brothers on that and learned how to play post defense and how to have a post-game. When I was playing with the Phoenix Suns, Scott Skiles would post me up. A Lot of guys didn't know I could do it but my brothers taught me that and I was pretty good at that. Brian Shaw really taught me how to play post defense when he got traded to Golden State. I always asked him questions about how to guard guys like a Michael Jordan or a Kobe Bryant when you get switched off, you have to guard those guys. He said you have to mess their rhythm up, you have long arms, mess their timing up, challenge their shot without fouling. I knew as long as I could stand my ground and not let them back me down to deep, that once they turned or made a move, my wingspan, my jumping ability, I knew I was going to be fine.
David Jordan Jr: Tell us about your first playing against Michael Jordan on an NBA court and what you remember most about those games against those Bulls teams.
Tony Delk: I was so excited. I think the first game took place in Charlotte. Of course, I've been wearing this man's shoes and in college he was definitely my favorite player, even dating back to high school. Two of my high school teammates, one was a Lakers fan and one was a Pistons fan and I was like y'all know Mike is going to get over that hump at some point in time. I remember calling them when he got his first one telling them and they were still like Isiah got two and Magic got five. Two years later he got two more and I was like he was on his way. During that 1997 year I remember playing them and they were a well-oiled machine. I remember when I finally checked in the game we were down thirty points and Michael, Dennis and Scottie weren't even on the court, they were icing their knees (laughter). The following year when I got traded to Golden State I outscored him in that game in Golden State; I don't know if he stayed out late that night in LA, but MJ came to Oakland and I outscored him. I actually guarded him and defended him pretty well that game.
I have to give myself a little credit. Watching that 96-97, 97-98 Chicago Bulls team was great, in front of our eyes. When they came in town, whatever city they played in, you got the best performance of one of the greatest teams that was ever assembled. You have to give credit to Coach Jackson, Jerry Krause, drafted the right guys, making the right off-season moves, getting the right pieces to build that dynasty that they had. Then you have the greatest player in the world, and when he stepped on that court, he was about business. Playing against him and seeing so many great players that I've played against, no one compares to Michael other than Kobe Bryant, you know how he approached the game.
David Jordan Jr: During your career you had the opportunity to play with different teams across the league. In 2002 and 2003 you had the opportunity to play with the Celtics. How was it being a Celtic? How was the experience a Celtic?
Tony Delk: To be honest with you, when I left Sacramento I signed a six year deal with Phoneix and was hoping to stay there through the rest of my career or at least through my contract. I didn't expect to be traded so soon. I got traded in February. My body was used to warm weather. I was not ready for that cold.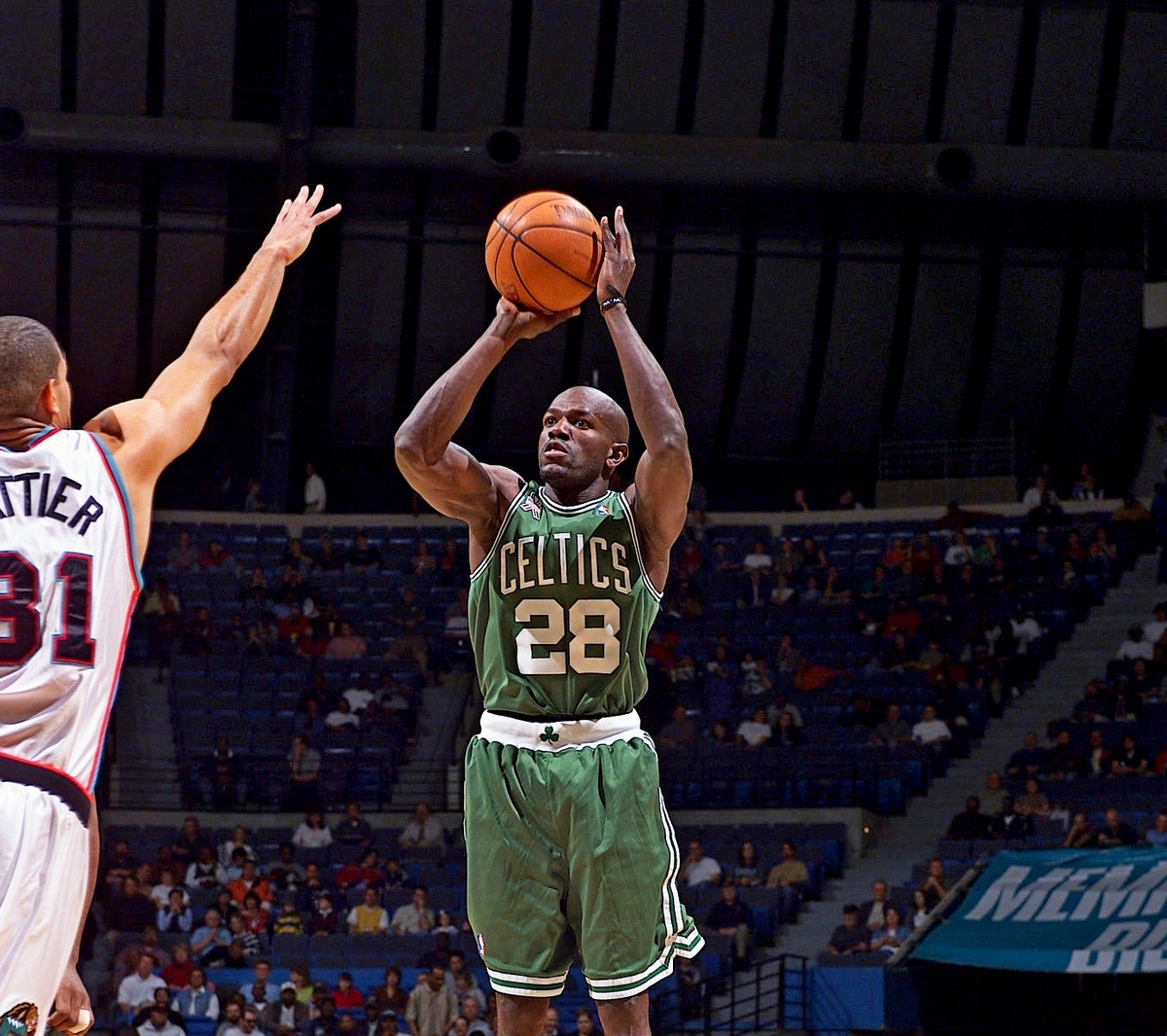 It wasn't about the tradition, the guys being there Antoine, Walter, Jim O'Brien who was my college coach being there. I don't like cold weather. That's all I was concerned about. It wasn't about the fans, how far we went (went to the Eastern Conference Finals) I just did not want to be cold. It was like as soon as we play that last game I'm flying back to Phoenix. That's all I thought about and it was so funny because I had my clothes packed a month before we started the playoffs. They were ready to fly out whenever we lost, that's how much I hated the cold. So when people asked me how was Boston,  I was like "It's Cold!" When I got back that second season it was cool because I started most of the games, Coach O'Brien told me that were going to trade Kenny Anderson and I was going to become the starter. I was the point and Antoine was the point forward so we kinda shared the responsibility. When I left there I was happy, I can't even lie to you. Boston has great fans, unbelievable tradition, but when it comes to your body and what you like, especially when you get to choose, like when I became a free agent I wasn't choosing any cold cities unless they paid me more money and that would have been the only reason I would have went somewhere that was cold. When I got the chance to become a free agent I chose a warm city.
David Jordan Jr: The last two years of your career you had the opportunity to play overseas, you played in Greece and then you played in Puerto Rico. What did that experience teach you not only as a player but as a person? Living in another country, playing a different style and meeting different people and the culture. What did it teach you about yourself?
Tony Delk: It was a major adjustment because at the time leaving my family behind and still doing something that I love, it was different, especially going to Greece. Panathinaikos accepting me with open arms and welcoming me and made me feel at home but it still wasn't home. When you've done something for so long in your country, you know the game was still basketball a little bit different because we practiced like we were in college. My body left college ten years ago and I remember two-a-days and all the hard practices and I remember I was like some of this stuff is not for me; I just didn't want to do it. I already knew how to play basketball. It was more about just fine-tuning certain things and then being ready to perform when we had our games. I knew what I had to do, what I needed to do. It wasn't about trying to teach me how to play basketball. I was in my 30s and had learned a lot, so you gotta be able to teach those other guys how to play with a system in place. I think I enjoyed the Greece experience towards the end.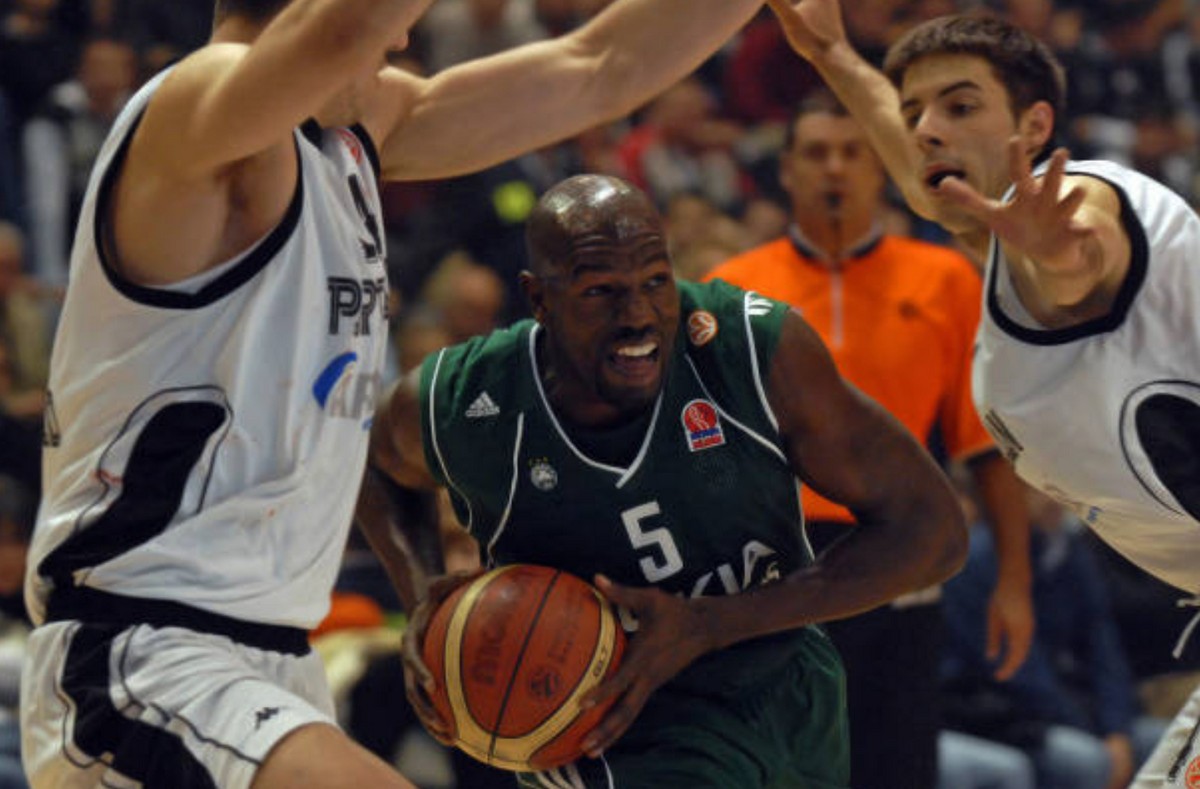 I got the chance to visit some other countries and play in other countries. Seeing Poland and Turkey, places that I probably wouldn't have gone to take a vacation. Playing in Israel in Maccabi, that was a beautiful place and I dated a girl there for a couple of years after and I got the opportunity to go back there and enjoy it a little more. Playing in Puerto Rico was a good experience because it allowed me to coach a little bit. Going there as a player-coach, I had a pretty big deal in Turkey but I didn't want to go back overseas from my experience, just from what that coach expected out of me. I'm not that player that's going to come in and practice three or four hours a day and then play ten minutes a game. Like Anotine Walker said you either you want it in practice or in the game, you can't get it in both. I got a chance to coach in Puerto Rico and that sent me into coaching once I was able to be strategic with plays and bring some of my own philosophies in to the coaching part of the game. I really enjoyed that part of it, seeing where players needed to be and putting them in the right spots and see how my play-calling worked. That's what got me into coaching. Even as I do a lot of stuff through my academy, I do have coaches in my academy, if they're not able to make it I don't mind filling in, its fun, its exciting, teaching the game.
David Jordan Jr: You're hands on with your academy, your coaches are hands on and you develop and teach players on all levels from beginners to professional players. So many places that are training grounds for players, they are only specific to certain people or age groups. Talk about how that helps in developing all of the players.
Chase Clemmons, a player in the Tony Delk Basketball Academy talks about his experience at the academy.  Age:15 School: Mount Vernon Presbyterian School | "The best part of learning the game from a player that has excelled at every level of the game of basketball is probably just gaining knowledge from them about the game of basketball. The great part about having someone who has excelled at every part of basketball is just learning from someone who has accomplished everything that you want to accomplish and I am just really thankful to have those types of people around me, and I really appreciate it because they are taking their time to invest in me and helping me become a better basketball player."
Tony Delk: I've seen it from all different angles; from being a player that has come off the bench and has been successful, having played during the course of a season, going to Kentucky with all of the different accolades and not being able to play until somebody got hurt, earning your minutes, watching the collegiate girls play because I do have college girls I train in my program as well and it's a process. In the process it takes time, It doesn't happen overnight. I always tell people it took me sixteen to seventeen years to make the NBA. I started as a five-year-old kid. It took over a decade for me to get to that next level. I tell them to come in, work hard and what I'm going to identify are some things that can help kids become better. You need to listen and work on these things and eventually as you work on these things in practice and individual training I need you to trust and apply at some point in time. What happened with me to become a scorer, to become a good shooter everything starts in the summertime. Every summer I wanted to be better. The extra time when you don't have to worry about school, you'll probably be up late playing some games or doing something you shouldn't be doing, put that time into basketball. That's what I did. Every summer I challenged myself to be better than I was when the season ended. You have three to four months to let your summer game speak for your winter game. Eventually what you did in the summer will show in the fall and in the winter. If you don't make a team in the fall it means you didn't do anything in the summer. That's your blueprint. Do it in the summertime. You've got to be better. You've got to want to compete and beat the player out because you don't want somebody giving you something because they can take it back. Once you earn it, it's yours.
David Jordan Jr: What is the best piece of on-court advice you've received from anybody, coach, or player that you instill in players in your academy?
Tony Delk: Play everyday like it's your last day. It's as simple as that. Give 100% not knowing if you're going to ever play again or what could happen the next day. Play every day like it's your last day and that was my approach when I played the game of basketball. Whether it was a few hours, I remember going back to Brownsville, the people there will tell you this dude played ball all day. Me, getting on my bike riding across town to other neighborhoods, I did that religiously. I never saw getting on my bike as cardio. That was my car. That was my car to get to my destination. Most kids now are like riding a bike is cardio, I was riding to get to somebody's neighborhood to play basketball and I had to be home before the street lights came on so I would leave home at 7:00 in the morning. I loved basketball, my mom and dad didn't have to tell me to get out of the house. I was playing ball all day, every day. It's a different time now. A Lot of kids have a lot more distractions now, things that could take them away from being great at sports and being on sports teams because they spend so much time in the house. When you're growing up in the 80s and 90s, your parents are going to tell you stay out of this house, don't come in this house, you've got the AC on, don't be in and out of the house, drinking out of the water hose, it was the best water ever.
David Jordan Jr: Something that I'm intrigued with and know is essential to not only being an athlete but simply living a healthy life is the ability to move, run, walk, jump and squat. Something people take for granted until you can't do it anymore. You have the Tony Delk IMAC Regenration Center. Tell us how your clinic helps people that may have joint pain, knee injuries, back pain and what you all do?
Tony Delk: The great thing about it, over time we are all going to age, our body is going to change and deteriorate over time. Nothing can stop that from happening. When I got involved with the IMAC Regeneration Center it was really about seeing how we could help the elderly with back pain, knee pain, different kinds of pain through their body. It was about having a one-stop shop, deal with your spinal decompression, learning more about platelet replacement (PRP), and understanding how important it is to rehab.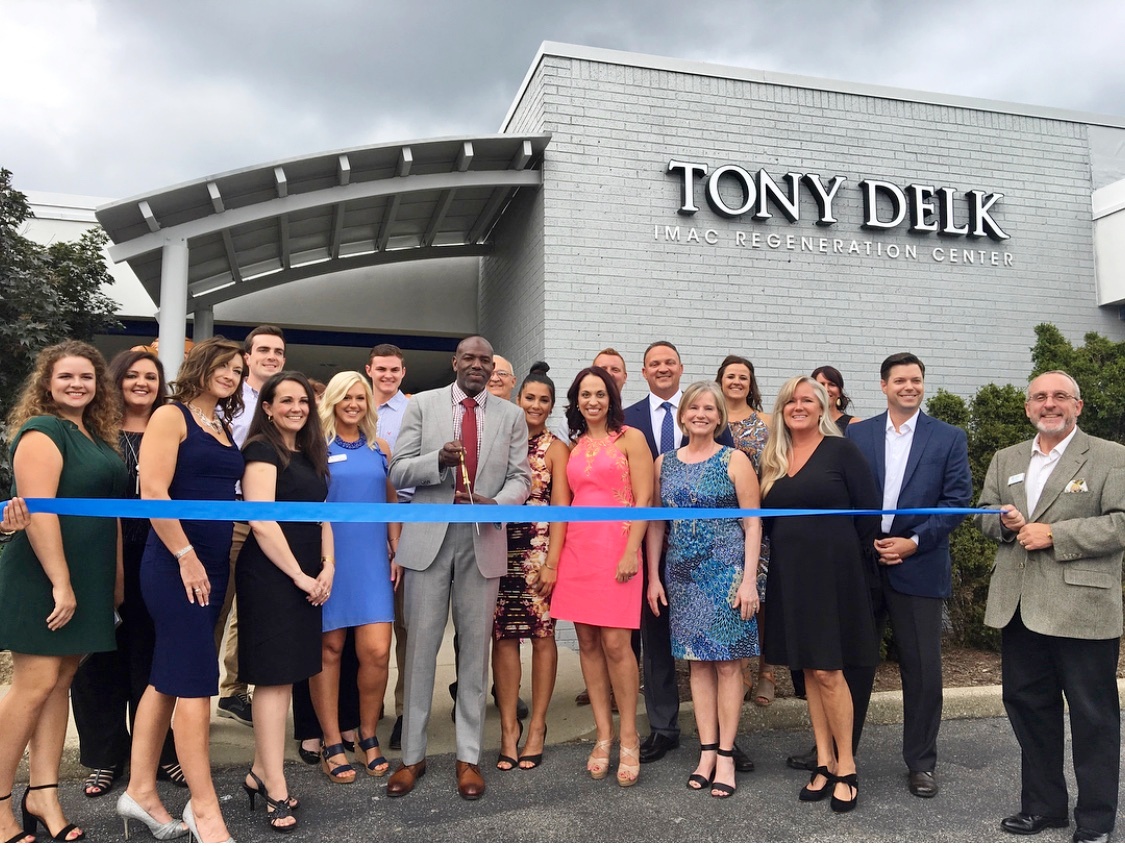 I've had multiple surgeries on my knees and the rehab process is really what gets you back to walking and performing and feeling better so you have to take that seriously. When I was talking to the founder Dr. Matt Wallis and I went to the facilities in St. Louis and the one in Nashville I talked about the importance of rehab. It prevents you from prescription medication. When I had my first surgery it was because of tendinitis, so I can only imagine having PRP back then, I think it would have helped my knees. So many years of playing running, stopping, jumping. That was one of the reasons at the end of my career I was walking away; I could still play the game but my body over all of those years had taken a beaten. I know the IMAC Regeneration would have been great to me then. You don't have to take all of those pills, the pain killers. These injections really do make a difference. At least go by the center, get some knowledge. I had my Achilles injected about two and a half years ago and they have been holding up.
David Jordan Jr: You have your own wine that was launched a few years back, Lorenz00's Reserve. The process of making the wine and it's aging process, being that its aged in a bourbon barrel and one in a steel barrel is really unique. It has a distinct taste. Tell us about it.
Tony Delk: Being from Kentucky you find out how important Bourbon is, my Cabernet is aged for a year in those barrels. You get a chance to get a more bourbon taste and it's a little higher alcohol content but it has a great taste behind it. It's really having a wine for your palate. The chardonnay is not a crisp taste, a buttery taste, but a really smooth taste.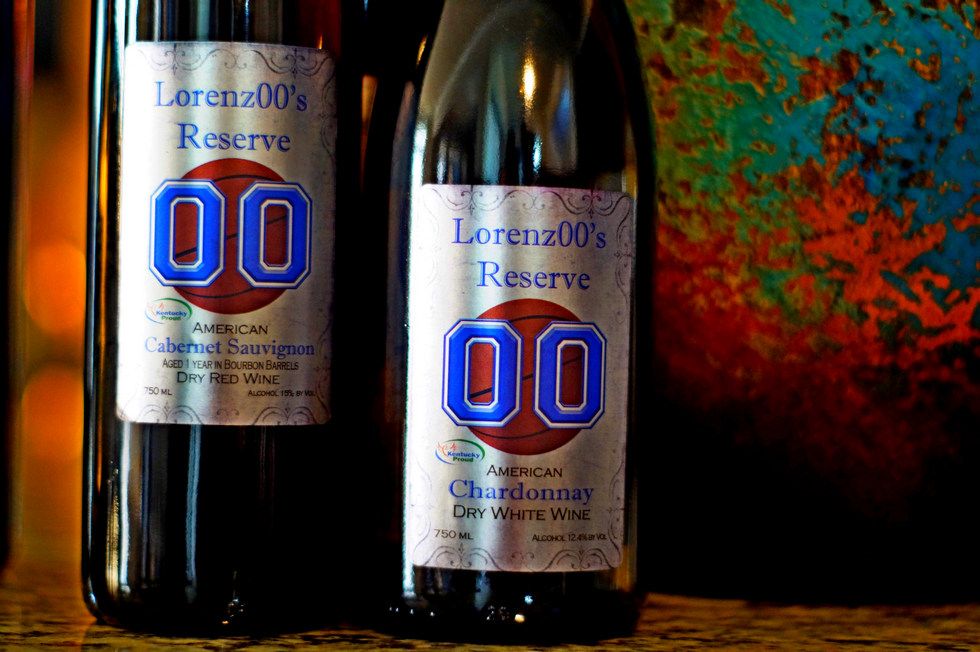 What we've been doing for the last month and a half, we give 15% of our profits to KCH (Kentucky Children's Hospital) for the front line workers, nurses and doctors, I want to give something back to them for what they've been doing not only for the Lexington community but for the things they have been doing during this pandemic. They've done so much work that it shouldn't go unnoticed.
CONNECT WITH TONY DELK
Instagram @TonyDelk
Twitter @TLDelk00
Tony Delk IMAC Regeneration Center