Author Frank James IV has released his latest book "From Howe Street to Accra" The book details Mr. James' experience in Ghana while working on the film, Coming to Africa directed by another US citizen, Anwar Jamison.
James is the assistant director of the movie, Coming to Africa scheduled for release in October 2020.  Coming to Africa is the brainchild of Anwar Jamison also from the USA.  From Howe Street To Accra goes behind the scenes and brings light to the obstacles the crew overcame in order to make the film.  The majority of Coming to African was shot in Accra in July 2019.  The film is loaded with Ghanaian actors such as Nama McBrown and David Dontoh. The film also features US-based actors such as Khalil Kain. For the parts of the movie filmed in Accra, Mr. Jamison used an all Ghanaian production crew.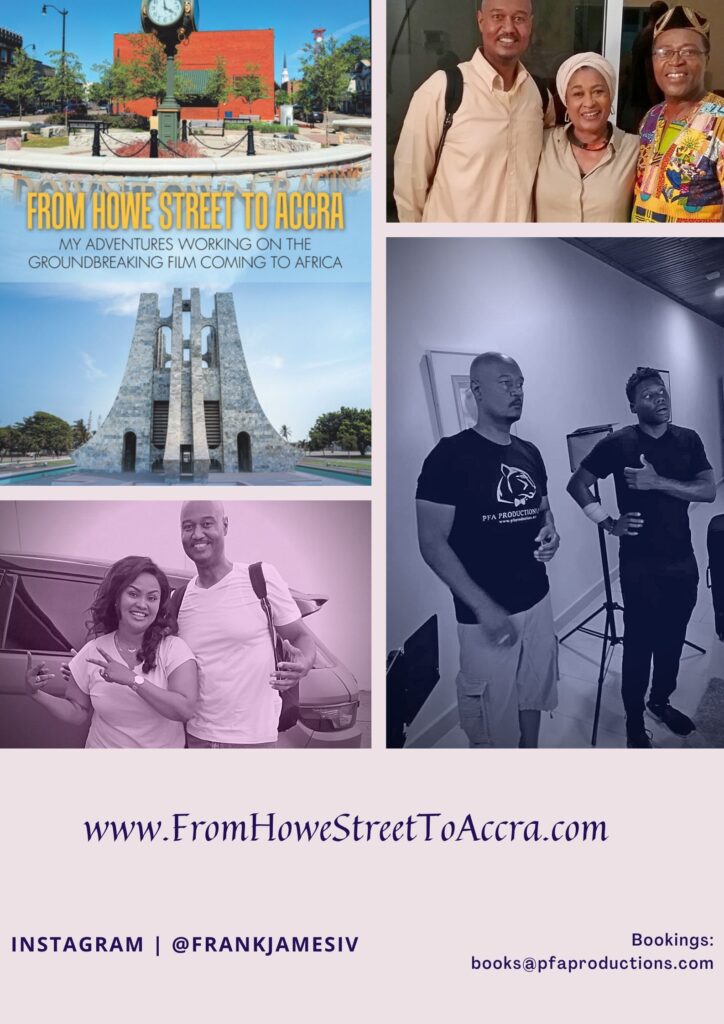 The book is fast-paced and often hilarious in the retelling of the creation of the film.  The book showcases the beauty of Accra as told through the eyes of an African American citizen.  The book also takes a look at how a man can escape a mental prison of his own creation.  Ironically the title of the book is relevant to both men.  Mr. James and Mr. Jamison both grew up on Howe Street located in Racine, WI. Interestingly, both men work in education.  Mr. James as a high school English instructor, while Mr. Jamison is a professor at Arkansas State Mid-South.  Both men now call Memphis, Tennessee home at this time.
From Howe Street to Accra is Mr. James's third book to be released.  The book was published through AuthorHouse.  Both ebook and softcover editions are available at: www.fromhowestreettoaccra.com, Amazon and other major booksellers.  For more information contact Frank James IV at: fjames@pfaproductions.com or books@pfaproductions.com.