A Wave Supreme
By David Jordan Jr
Chris Douglas Roberts .CDR. Wave GOD Supreme. The evolution of a person is life. For Chris Douglas Roberts, his humanly evolution is one that has allowed him to become totally in tune with the nuances of life, things that have enabled him to not only grow as a person, but as a basketball player, a business man and humanitarian of self inspiration.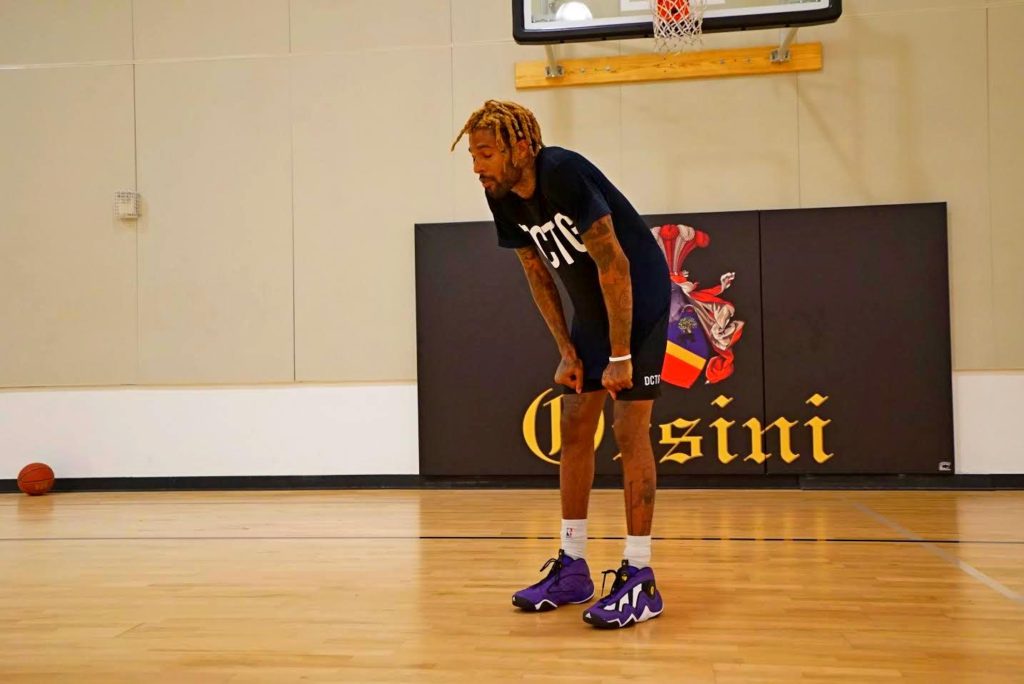 Life's experiences and circumstances, both good and bad present the opportunity for a person to grow. Hailing from Detroit, Michigan, CDR is no stranger to witnessing the things life will present to you on a platter in day to day life. The "D" is stamped on the soul of the Wave God and it's ever present in not only his basketball game but in his aura. The University of Memphis and former head coach, basketball Hall of Famer John Calipari presented the belief and platform for CDR's basketball career to fully develop and enable him to reach the highest levels of professional basketball in the NBA and internationally playing FIBA ball in Italy. The journey, not the destination is what makes a man, what develops a man. The success which CDR has enjoyed collegiately (Consensus 1st Team All American) and in the NBA has been equally mirrored by the unexpected roads of inexplicable difficulties the same game has brought his way; nonetheless his passion and love for hoopin' is what has inspired him to go even harder.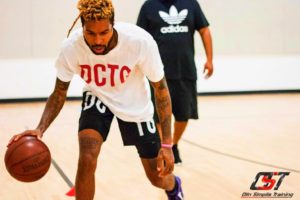 Many times our setback are reaffirmations of what we are doing and reaffirmations of what we must keep doing. In addition to his basketball career, CDR has been equally as relevant in the forever evolving world of fashion. Seeded in his genes from his mother, the love of fashion and everything that fashion entails is the roots for his DCTG™ Sportswear collection. Hands on with his collection, we get the true feel for the Wave God Supreme through the pieces created and the forthcoming pieces coming out in the fall. Totality is a word that can accurately describe the Wave. Going forward forever without the inclination for stopping. Recently CDR spoke with ESHE Magazine about DCTG, his basketball career and his life experiences:
ESHE Magazine: First of all I want to say congratulations on the DCTG (Don't Cheat The Grind) Collection. The concept and foundation is something that you've taught us about not only through your words but through your actions; in your workouts, in your career and in your life. When did you actually decide that you wanted create this clothing line? Was it something that developed over time with your life/career experiences or was it something that's been inside of you and came full circle with opportunity and timing? 

CDR: Thank you. DCTG™ Sportswear. It's a separate entity from "Don't Cheat The Grind™." I really want to clarify that to everyone. Don't Cheat The Grind™ is the movement. A lifestyle. DCTG™ Sportswear is a lifestyle too, but DCTG™ Sportswear is its own presence. Not just a logo on some clothes. My upcoming fall collection will really cement that. I'm really super focused on it. I feel this will officially make me a designer. I'm releasing five hot pieces for this collection. Shit hard too. As far as how it all happened…style has always been a part of me. My Mom is very stylish. She always had things. Rings, coats, boots, necklaces etc. My Mom raised me so her sense of style is in my code. I've always been into looks more-so than clothes. I've always been ahead of the trend. Fashion is basically having an eye for the next thing. The next trend that people will follow. I have an eye for that and I know what looks good.  I see beauty in detail that I feel people can't see. For my photo shoots I focus on the beauty more-so than my clothes. Finding the beauty is key. The look is what's most important to me. My third eye has been open for years now. When you think of Preme you think of trendsetter and sauce. Look around, there will be no more big shorts in five years. It's above the knee or you're looking outdated. Go play Live 95 my guy. We can act like someone else brought it back but the Moon and the Stars know who really brought it back. 

But timing is everything. I've always been interested in clothing but I wasn't ready. I've spent time studying the fashion game just like I study hoops. I don't just do things to be active. I like to be prepared before I go through any door. I really put passion into whatever I'm doing. DCTG™ Sportswear is going to be a street wear brand heavy in the culture. Simply because I'm going to put my life into it. I'm going to outwork and out study everyone until my shit is the hardest on the streets. DCTG™ Sportswear Fall Collection '16. Inspired by 70's Rick James. I was listening to "Party All The Time" when I designed the jean jacket. Had the video running and everything. 


ESHE Magazine: During the time that you played in Italy, I know you were able to experience a totally different viewpoint of fashion since Italy is one of the fashion meccas of the world. Was there anything from the culture of Italy that planted some type of seed in you for creating your pieces?

CDR: I was wearing Lanvin & Margiela in like 08-09. Acne sweatsuits and Raf Simons. Jimmy Choo loafers. I had the Balmain high tops all white with the zippers so long ago. At that time people were still wearing Ecko Sports and jeans with colorful designs on the back pocket. I just wore a pair of Margiela's for the first time in like 4 years. I went in the garage for em. Supreme never wore Louboutin's ever. Basically I was always ahead like I previously said. Being in Italy just confirmed it for me. Being in Italy did show me the importance of a watch though. Timeless watches. I was introduced to Hublot while over there. I got one a couple years after leaving. You don't have to have an expensive watch but it has to be official. 

I envision DCTG™ Sportswear being in stores like Mr. Porter. I want it to be high end street wear. The beauty of the era we're in is you can read on a brand that's already successful and see what steps they took to get there. I have no shame in that. I like brands like Acne, Boss, Alexander Wang but I also admire brands like Supreme, Stussy. I think those are God street brands. Lazy Oaf is wavy to me too. I'm still early in the game. I gain inspiration every step of the way. Like I said, I'm going to master this craft with the same intense focus I'm trying to master my craft on the court. DCTG™ Sportswear Fall Collection '16. Rick James. "Give It To me Baby" vibes. I want you to take my stuff to the cleaners. Don't just hand wash the Sportswear.

ESHE Magazine: One of the things that I've noticed is your total involvement with the creation and development of DCTG Sportswear. So many people have a line or call themselves a clothing collection designer yet they are not completely hands on with the entire process. I think your approach validates the authenticity of the DCTG movement. How important is it to you to be a part of the entire process? Describe the reception you've received from your supporters.

CDR: Oh no doubt. This is serious to me. I don't have any sponsors. Don't want em. No partners. This is me. I've build a team and we're off and running. Every dollar spent is coming from my pockets. Every loss I take, I take it 100% and I wouldn't have it any other way. If you don't have ownership then you're just a worker. I sponsored myself. I'm trying to have the DCTG™ Sportswear building in NYC. Emmanuel Mudiay is face of the DCTG™ Sportswear Sports. Hopefully by the time this is published they've announced that he's First Team All Rookie.

That's major. I'm gifted with ideas. Those are my riches. Ideas. I then have Raven draw my idea. That's how the process starts. Everything is built like that. I couldn't let someone just run my line. To me that's cheating the grind. I'm involved every step of the way. From production to photoshoots. I'm on these phone calls and in these meetings. Young black boss in and out of LA sitting there with his ripped jeans and Cartiers on talking fashion. I'm spending money and taking risk. It's not easy and there's no real security but this is the life I love. 

 

I'm very happy with the reception. The wave is definitely spreading. I'm so grateful for it all. We have steady activity. They really want the shorts.  I'm very grateful for that because I know people don't have to care. To actually have an audience is something to be proud of. I'm a Detroit kid who doesn't have any commercials, but I'm creating and selling clothing. No hype machine. All organic non GMO wave. 

ESHE Magazine: You were a Consensus All American your Junior year at the University Of Memphis. Talk about your last year at Memphis, the city and the impact Coach Cal had on your development from the time you arrived on campus up until you declared for the 2008 NBA Draft. 

CDR: I fell in love with Memphis immediately. I'll always call Memphis my second home. The people took me in like their own. It made the transition much easier.  Also I'm from Detroit. Memphis is very similar. It's like down south Detroit. So I could be in the south Memphis projects one day with my homie Andre Allen and it felt like home to me. Same kind of love and environment. I got a Memphis Tiger ring made last summer. It's my favorite ring period. Tiger for life. 

Coach Cal is the Don. If Cal tells me you aren't right then you aren't right. No questions asked. Anytime Cal is around I'm in underboss mode. That's our relationship. I hold him in that high of a place. If it weren't for him I probably wouldn't be doing this interview. He believed in me. That's all you can ask for in this world. It's only a couple people I won't feel disrespected by if they cut me off while I'm talking, Cal is one of them. All hail Coach Cal The Don.


ESHE Magazine: As a professional you've experienced it seems every possible scenario a player could; playing your best at the highest level, being inexplicably benched or released, injury and just the every day up and downs of being a professional athlete. Describe your passion to keep pushing forward DESPITE and also how every experience from playing internationally and in the NBA has shaped your mindset as not only a player but as a person?

CDR: It's simple. I love this shit. I love the grind. I love the pain. Man this has made me into one of the cold ones. Imagine the stuff y'all don't know. I love being counted out. I love being told I'm not good enough by someone who never hooped. I love running on the treadmill. I love putting in work. I love it. I know people have quit when they reached certain obstacles that I've overcome. I feel bad for em, but I love knowing that I'm not them. I love every challenge. I will never fold. I've reached a point where I'm looking forward to a new struggle. I have to stop that because that's what manifest in my life. I approach life like a video game. I want to conquer the hardest board. Where is the hardest board? I'm not scared of shit. I've felt the worst pain I thought I could last year with the Pelicans. It took me 6 months but I overcame that. Now I'm look at me I'm unstoppable. I conquered my ego. I'm free. Nothing phases me. People say that but they don't mean it. I really mean it. Nothing outside of me can influence how I feel. The jokes only on me if I want it to be. They'll never see me in person anyway to have an opinion. I'm not sharing my energy with just anybody anymore. I'm The Supreme.


ESHE Magazine: Whenever somebody asks me where the best players I've ever played against come from, Detroit is one of the places I always say. For those that don't understand, describe Detroit hoopers.

CDR: We have game and we know it. That's our gift and our curse. Our confidence in ourselves. Weird right? The thing about confidence is how it's received. Real ones view confidence as a positive and become inspired by it. Non real ones view it as arrogance. And those people are offended by it because that's the energy they lack, in some cases. So it's all in the eye of the beholder. Nothing changed. We're still here. But we're like the Rhino's we damn near extinct. They trying to extinct us but we're resilient. Major love to all my Detroit hoopers out there. We not going extinct. 


ESHE Magazine: What's the best piece of on court advice you've ever received and who did it come from? 

CDR: Recently Wave God Sr. 6th man of the year told me make them conform. Never be someone else. You're a scorer be a scorer. Period. At times I be on my point forward wave trying to fill up the stat sheet. He don't like that. He wants me to be one way. Go get buckets. So if Wave God Sr. say get buckets that's what I'm going to do. 


ESHE Magazine: What has been the biggest surprise to you during your basketball journey? In what way did it have an impact on you? 

CDR: Realizing that sometimes it may not be about basketball. Growing up in the business will show you. I've grown up in the business of basketball. I came out at 21. I had to learn the business on the go. Now I feel I'm knowledgeable of the business. Knowledge takes away stress because you aren't wondering. You know. I'm more understanding now because I run a business myself. Sometimes it's not personal it's about the business or what one feels is best for the business. 


ESHE Magazine: Your personality, much like your game is a rare unique blend of individuality, humility and supreme belief in self. This is something that I feel has played a significant part in your success despite the many obstacles you faced, not only in basketball but in life. Choose 3 words to describe CDR and elaborate on how each word personifies you.

CDR: Wave God Supreme. 

Wave because water is life. Waves keep going no matter what. Waves because life is frequency. Wave because I know how important it is for the body to be electromagnetically charged. Wave because also I'm wavy. I'm cool and do cool stuff and say cool wavy things. Everybody loves when I'm talking my stuff. 

God because we are all Gods and Goddesses. Some of us know some of us don't. Some of us look outside of ourselves for answers. Some look within. God because I know 98% of our body mass is made in stars. Besides helium and hydrogen every element in my body is basically stardust. I know everything within the entire universe is also within me. Literally. God because I care for all beings. I don't feel my life is more important than a bee or fly. I feel deep compassion for all living beings that are mistreated. I'm here to help others suffer less to protect Mother Nature the Most High.