By David Jordan Jr
" $50.00 Sneakers And I GOT.NO.JOB" – Mars Blackmon, 1986.

Today marks the 30th anniversary of the release of Spike Lee's first feature length film "She's Gotta Have It." This movie was Lee's introduction to the cinematic world on the world stage. The significance and importance of this film is not measured by sheer results in the box office; this film, released on August 8th 1986, spearheaded a new direction for black cinema and it also planted roots for growth within the black community and black culture in regard to discussions about love, sex and relationships.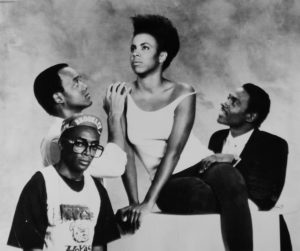 "She's Gotta Have It" is a story based around the lead character Nola Darling (played by Tracy Camilla Johns) and her journey of self through her relationships with three different men. Jamie Overstreet ( played by Redmond Hicks), Greer Childs ( played by John Canada Terrell) and Mars Blackmon (played by writer and producer Spike Lee) are the three men that all make up the complex love life of Nola Darling. In the eyes of each of these men, Nola Darling is the ultimate catch. Eloquent, beautiful, sexy, independent and bold, Nola's aura is a magnet for all men; her magnetic pull allowed her to have the options that in a sense completed her yet kept her wanting more. One of the most intriguing aspects of this film is how essentially the tables are turned in relationship roles; in most cases it is the man, not the woman that uses a plethora of women as his objects of love, support and sexual fulfillment. Lee showed the other side of the coin in "She's Gotta Have It" as Nola Darling maximized her options to determine what she wanted and did not want in a man. In 1986, this was a big thing to be portrayed on the screen, especially in black cinema.
Considered taboo at the time of the release, Lee also delves in to lesbianism with the interactions between Nola and her lesbian friend Opal (played by Raye Dowell) which also offered another potential option for Nola to introduce to her complex love triangle. Sexual freedom creates situations that eventually allow the opportunity for emotional attachment as well as emotional confusion. The film allows us all to see each character experience the aforementioned attachment and confusion at different times.
Fast forward thirty years later and if you look around, society will still tell you that SHE'S GOTTA HAVE IT. Both men and women interact with each in the same manner as Nola, Greer, Jamie, Mars and Opal; remnants of seeking love, affection, acceptance and emotional stability outline many relationships today.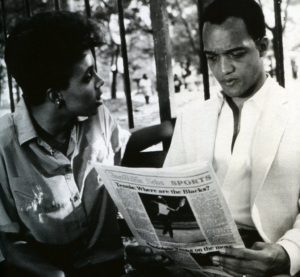 The beauty of Nola Darling was that in her spirit of being a free woman, she was honest and open with each man that she was involved with, essentially allowing them to proceed at their own risk. Can women and men both learn from "She's Gotta Have It" in 2016? Absolutely. A true understanding of self in all areas will provide you a foundation for anything that you want when it comes to relationships. Denying yourself in any area of your life could ultimately lead to self destruction in the same way that over indulgence destroys oneself.
"She's Gotta Have It" forever changed pop culture with the introduction of one person; Mars Blackmon. Michael Jordan's "Air Jordan" sneaker created in 1984, was available to the public in 1985. The buzz surrounding the shoe was magnified by the NBA's essential ban of the sneaker due to it's color scheme not adhering to the leagues team uniform standards. Enter Mars Blackmon.


 The love Mars Blackmon had for his Air Jordans may actually have been stronger than his love for Nola Darling, considering his refusal to take off his Js when he had sex with her. "$50.00 sneakers and I got no job" sums up Mars and not only his affections for his shoes, but his priorities as well. Today millions of people across the world (both men and women) feel the same way about their Air Jordans, centering their life around everything Jordan shoe related. The fictitious character of the Brooklyn B-Boy Mars Blackmon was loved by Nike and created the avenue for the "Mars & Money (Michael Jordan)" Nike commercials that became instant classics in not only the world of shoe culture, but pop culture as well. Spike Lee was asked by Nike to direct a series of commercials for Michael Jordan's Air Jordan shoe collection and the rest is history.
The everlasting beauty of "She's Gotta Have It" is the fact that each of us can identify with any of the characters in the film in some capacity.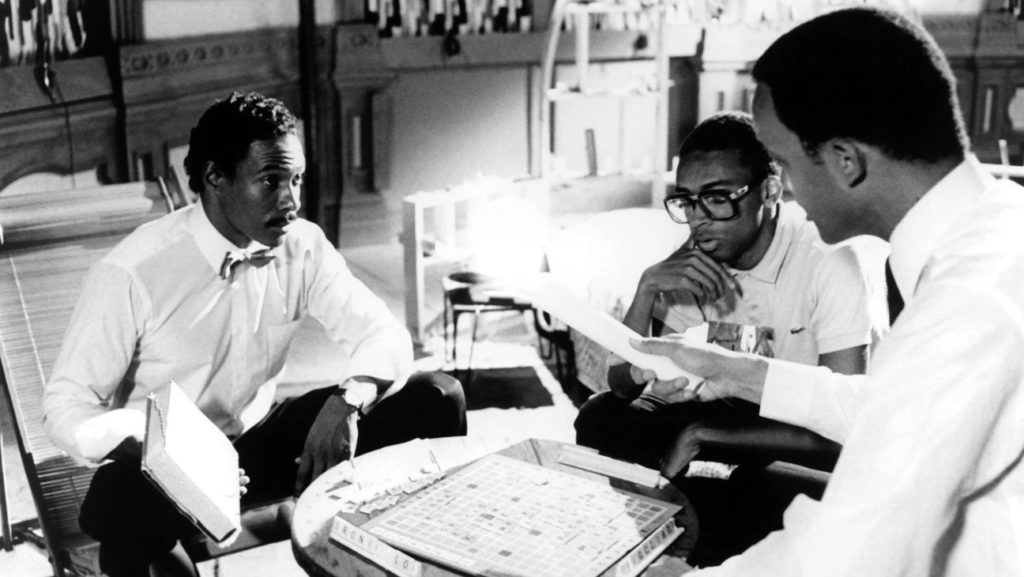 Whether you are the hunter, the option or the prey, you have been Nola, Greer, Mars or Jamie at some point in your life. The lesson we can all learn from the film is that how we allow relationships to build can define what they essentially become. Spike Lee's masterful debut project not only opened up dialogue about love and sex in the black community, but the film also paved the way for more black producers and directors to enter the world of cinema with their own thoughts, creativity and story lines. An investment of $175,000 (the cost to make "She's Gotta Have It") on the part of Spike Lee and 40 Acres & A Mule Filmworks created a new platform for black directors, producers, actors and actresses, that until 1986 was relatively obscure. For this contribution we are forever appreciative of Spike Lee and "She's Gotta Have It."