Cultural Icon Chronicles Defining Moments In Hip-Hop,
Covering 40+ Years In New, Expansive 300-Page Book
Featuring Over 100 Portraits
New York, NY (October 6, 2017) – "Chuck D Presents This Day In Rap And Hip-Hop History,"  one of the most comprehensive, chronological histories of rap and hip-hop ever written, will be available on October 10 at all major retailers, including Amazon.  Assembled by Chuck D, co-founder of Public Enemy and a respected, influential voice in the genre, the book includes pivotal moments from 1973 to the present alongside artistic portraits of people who have shaped the sound and the culture of hip-hop for over 40 years. This definitive history book takes readers from the Bronx to the billion dollar global phenomenon it is today.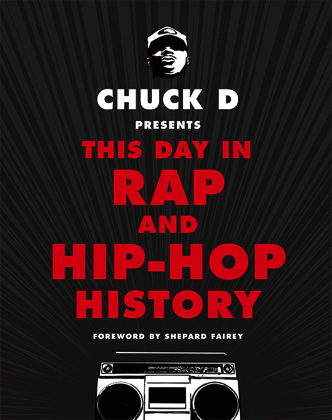 The massive anthology opens with a house party on August 11, 1973 when DJ Kool Herc unleashed "the break" on his turntables.  By 1979, rap had become embraced by mainstream audiences as "Rapper's Delight" sold over two million copies and went on to be the first hip-hop record on Billboard's Hot 100 chart the following year.  "This Day In Rap And Hip-Hop History" follows the art form through more than four decades, examining artists and moments that drove the messages and the music with exacting details that can only come from a musicologist who has witnessed it firsthand.
"If you want to understand our culture. To learn knowledge itself. Truth about the art form of poetry in motion. The struggle of our community through rhyme and rhythm. This is the book that inspired me long before I found my place in hip-hop," says Kendrick Lamar. "The power of self-expression. Unapologetically. Taught by the teacher himself. Chuck D!!!."  "Reading this book is like reliving my life all over again," adds LL Cool J.
The entries in "This Day In Rap And Hip-Hop History" are brought to life by over 100 portraits of the most influential figures in hip-hop, created by Shepard Fairey (who also contributed the book's foreword), ASKEM, Amy Cinnamon, Andre LeRoy Davis, Holtom, Glen E. Friedman, A.J. Katz, Timothy McAuliffe (Gold Van), Scared of Monsters, Rinat Shingareev and Marco Ventura.
Chuck D is considered one of the most influential lyricists in contemporary music. Both as a solo artist and as the leader of the groundbreaking group Public Enemy (which was inducted into the Rock and Roll Hall of Fame in 2013), he helped pave the way for political, social, and culturally conscious hip-hop. Public Enemy's albums remain among the most critically acclaimed works in the genre, including "It Takes a Nation of Millions to Hold Us Back" and "Fear of a Black Planet." Chuck is also a prominent figure on the speaking circuit lending his voice to issues and causes ranging from technology to race relations.  He is a founding member of the new supergroup Prophets of Rage, alongside members of Rage Against the Machine and Cypress Hill.  Prophets of Rage have played to almost 3 million people around the world in the last year, with their first full-length album released in September 2017.
###
Genre: Nonfiction / Music / Genres & Styles / Rap & Hip Hop
On Sale: October 10 2017
Suggested Retail Price: $29.99 Hardcover
Page Count: 352
ISBN-13: 9780316430982