(Via Collett)
Collett, a full-service commercial real estate firm headquartered in Charlotte, North Carolina who specializes in retail, office, and industrial properties nationwide, is pleased to announce that Real Estate Manager Amani Abdul, CPM®, received the 2020 Local TOBY® (The Outstanding Building of the Year®) Award in the Under 100,000 Square Feet category for Fountain Park Place, a Class A office building located in the heart of Old Town Rock Hill.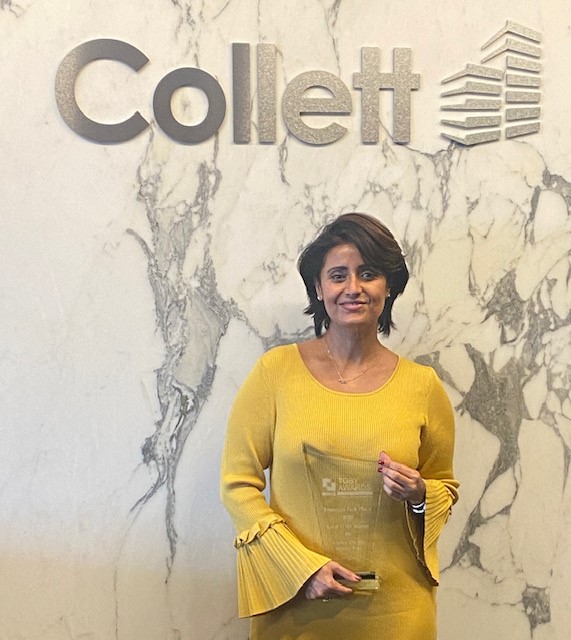 The TOBY Awards program is the most prestigious and comprehensive program in the commercial real estate industry developed by the Building Owners and Managers Association (BOMA) International in 1985. This award bestows the highest recognition honoring excellence in building management and operations in 16 categories of building type or size. After winning at the BOMA local association level, winning entries have an opportunity to advance to the regional level where the regional winners are then eligible to compete at the international level. The international TOBY Awards are recognized at the BOMA International Conference annually. Along with the other local winners, Fountain Park Place will be advancing to compete at the regional level.
The groundbreaking for Fountain Park Place began in May 2013 and was developed through a joint partnership between Comporium and the City of Rock Hill. Fountain Park Place features a four-story building with 50,072 square feet of office space and a connected municipal garage. Suites have access to Gigabit broadband through Comporium's Zipstream service, as well as many other amenities. It is quickly becoming one of the area's most desirable locations for leased professional offices, and it was notably honored with The Charlotte Business Journal's Heavy Hitter Award as one of the area's top office projects in October 2015.
Abdul and her Cary team previously won the Local TOBY Award in 2008 and 2009 for excellence in the Class A Suburban Office Mid-Rise category for Crossroads Corporate Park in Cary, North Carolina.
At Collett, Abdul's portfolio consists of 1.2 million square feet in Virginia, North Carolina, and South Carolina. She is also honored to serve as the 2021 Institute of Real Estate Management Western North Carolina President (IREM®), where she is part of an international force of 20,000 individuals working to advance the real estate management industry.
To learn more about Fountain Park Place or to inquire about leasing opportunities, visit https://www.collettre.com/properties/fountain-park-place-331-e-main-street-rock-hill-sc-29730 or contact Amani Abdul at 704-206-8304.
For more information, visit Collett's website or follow them on LinkedIn, Facebook, or
Twitter.
About Collett:
COLLETT is a full-service commercial real estate firm headquartered in Charlotte, North Carolina with offices in Morganton, North Carolina, Greenville, South Carolina, and Dallas, Texas. Collett specializes in retail, office, and industrial properties nationwide, and their services include brokerage, development, leasing, property management, strategic asset management, investments, and tenant representation. For more information, please visit www.collettre.com/home.